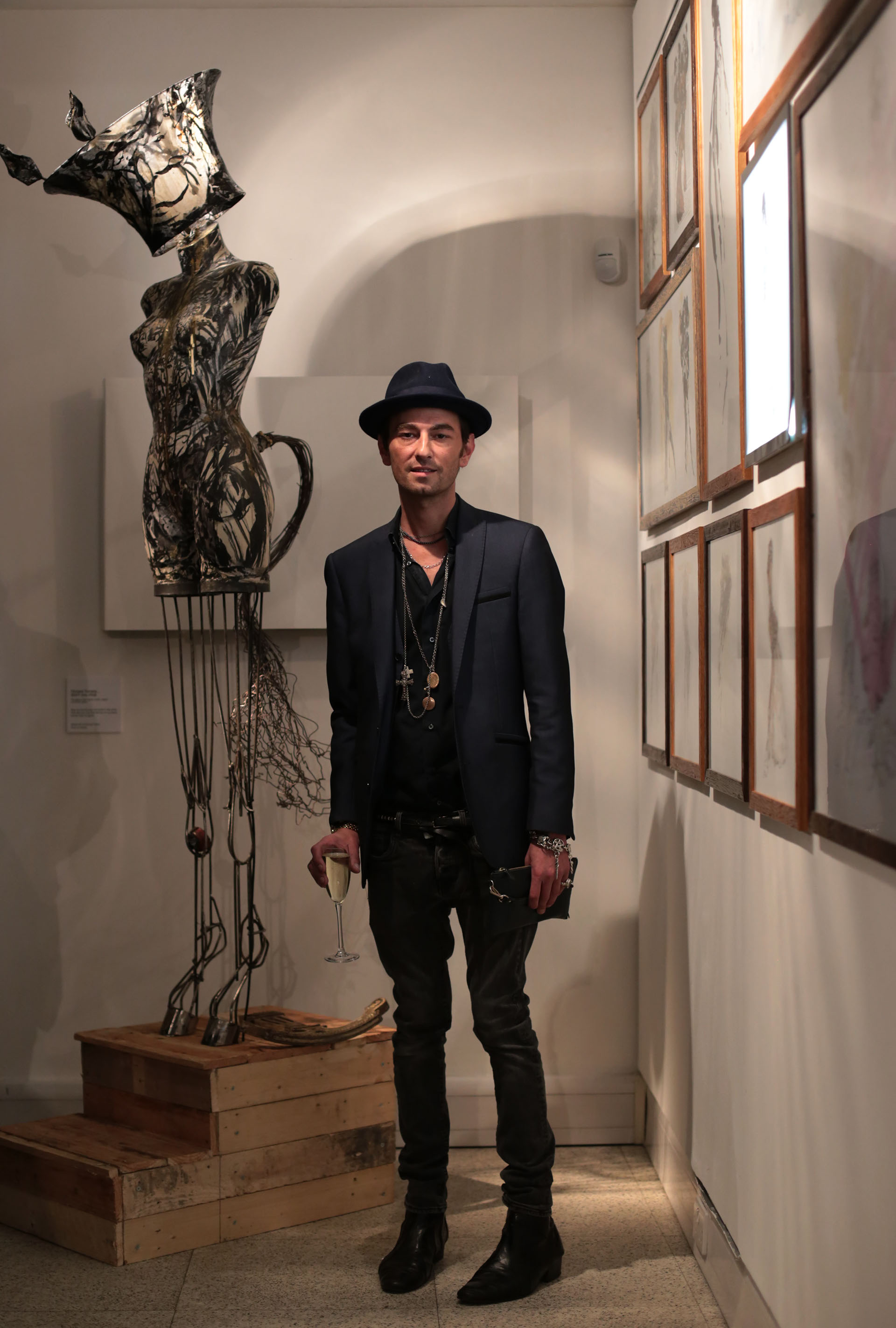 Daniel Fisher 
Abstract artist / Fashion illustrator
Born in 1977, Manchester, to a Pakistani father and English mother, Daniel embarked on a ceramics course at Leicester college aged 17, before heading to London for the bright lights and big city. In London he studied at Camberwell College under Richard Slee and finished his degree. Uncertain about how he could make it as a ceramicist, he took up hairdressing as a creative outlet.

After a brief hiatus owing to a personal tragedy, Daniel started making art again, and art director and friend Suzie Quill encouraged him to exhibit after being impressed by what she saw. Daniel's first
solo exhibition "Lost and Found" – signified a turning point for Daniel returning back to his art. 

Whilst all the work was produced in six months, the variations of mediums and exquisite skill portray 
a lifetime of experience that showcased a volume of fashionable forms and wardrobe tales through illustrations, paintings, and life size sculptures. His work focuses on and incorporates hidden messages relating to women and how instrumental maternal figures have been in his life and formative years. Through his work he explores, juxtapositions of innocence and darkness, drawing on instinctive behaviours.

Daniel's work continues to surprise and evolve, becoming bolder and more intense. His second exhibition "Fastidious Journey" embodied a fusion of high and low brow culture with influencers of expressionism, pop and street art on larger canvas formats. The exhibition was held
last year in his hometown Clerkenwell, London. 

"It's quite refreshing to see that Daniel has not been tempted to stay in the same territory as his first successful show. Whilst his work has a distinctive style, there's also a noticeable transition in genres that exudes diversity and confidence. Through experimenting and mixing things up, he has tapped into a completely different area. You can see the underpinnings from his figurative and fashion illustration work. It's just now the subjects; materials and techniques have exploded, to create a collection of lively and beautifully constructed work" – Art Director Suzie Quill

With a two solo shows under his hat, Daniel's collections have already made an impression amongst international collectors and art dealers, and work been exhibited in group shows in London amongst a superb line up of renowned artists including Banksy, Shepard Fairey, Dolk and other
new contemporary artists.

Daniel has recently completed a mixed media canvas and series of illustrations for a David Bowie memorial project he was asked to take part in. Daniel's interpretation of Bowie made from Brixton Pound notes and mixed media conjures up similar characteristics and the outlandishness of Bowie's characters and shows that he too is not afraid of experimenting. The works were on display
at the Royal Festival Hall in February and are on sale through the Bowie community crowd funding campaign.
davidbowie.community.com